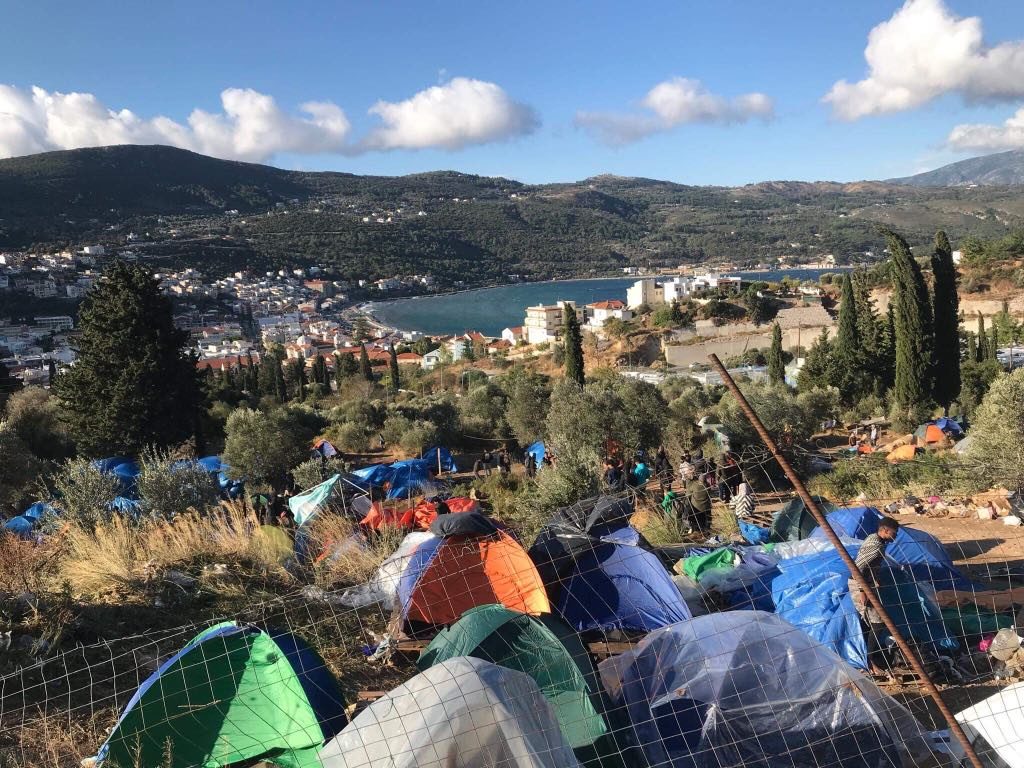 After a funky few months based in Cambridge (for those who've never been it's very middle England, full of bicycles  and wealthy looking students) I am off on my travels again: this time to Samos, an Aegean island in southern Greece, separated from Turkey by the mile-wide strait of Mycale. The local population of Samos is about 33,000 people. But, this has swelled to almost 38,000 people, because of some 4,700 refugees and immigrants now living in the island refugee camp. They come from Syria, Iraq, Afghanistan, the Democratic Republic of Congo (DRC), Gaza and a dozen other zones of conflict. The majority are refugees, some are economic migrants: all of them living in miserable conditions, crammed into a hillside camp originally constructed to house just 700 people.
This is not the fault of the local Greek authorities. They have been left to deal with the fallout of disastrous, and shameful, EU policy towards refugees, which has essentially (with the notable exception of Germany) been to abandon their (legal and moral) obligations to offer sanctuary to those fleeing wars and conflicts. The human impact of these EU policies are the daily lives of refugees on Samos, and many other Greek islands. There are now so many refugees on Samos that families have resorted to sleeping outside the camp, on the wet ground, under trees. Recently the authorities even ran out of tents.
I first travelled to Samos two years ago, in the summer of 2016, to work with the brave and visionary Samos Volunteers  who  have been supporting these refugees for the last three years. Whilst I was there, we distributed clothes and hygiene kits in the camp, and set up a range of informal activities for adults and children, alongside refugee volunteers from the camp itself. I defy anybody to meet a Syrian family who have lost everything, offer them second-hand donated clothes, including underwear, and not feel deeply ashamed of the way our governments treat other peoples. And heartbroken at what individuals endure in wars.
I'm going back to Samos at the end of this month, to spend the winter working with Samos Volunteers again: this time in a resource centre the volunteers have set up, just a few hundred metres up from the camp. The Alpha Centre is a hub where the refugees can get hot drinks,  access informal education classes, and most of all feel welcomed. It's  also the only place in Vathy where they can wash their clothes for free, so wear clean dry clothes. Which is surely a question of human dignity.
I have launched a one-woman fundraising campaign, to support the work of Samos Volunteers, and especially the resource centre, especially at this time of year as the weather becomes colder, and people need this warm shelter on a daily basis. Please understand, these funds are not for my own expenses (I'm covering all my expenses myself) – they are to support refugees who have nowhere to go as they wait to be ' processed' by EU member states. Some refugees have been stranded on Samos for two years.
Please contribute if you can, and what you can. Please also share this appeal and most of all please look at the Samos Volunteers website and see for yourself the wonderful work they are doing.
I'll be blogging from Samos, with updates and stories in the lead up to Christmas, so do stay in touch.
Louisa X