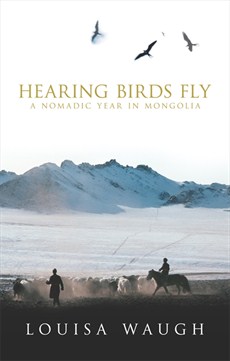 HEARING BIRDS FLY is Louisa Waugh's passionate account of working in a remote Mongolian mountain village, and the lives of the neighbours and friends she lived alongside.
After two years in the Mongolian Capital, Ulan Bataar, the coldest capital city on earth, Louisa yearned to spend time on the Mongol steppe, the vast open wind-swept spaces with the sparsest population anywhere in the world. Several months of searching finally sees her invited to teach in Tsengel, a village in the far West of Mongolia, set amidst the Altai mountains near the border with neighbouring Kazakhstan.
Her story of her year in Tsengel, which means"Delight", transports the reader to this isolated outcrop where the elements impose a parched, raw beauty and a daily struggle to survive heart-stopping changes of seasons, amidst a community of hunters and herders who dance the night away on a Saturday in a their own local "Klub," hunt wolves with eagles, and still live in fear of the Bubonic plague striking them down.
Louisa struggles and thrives in Tsengel, as the community of villagers survive winter, and the even tougher challenges of a long, parched spring with shortages of food, animals and hope. She makes friends, occasionally enemies, celebrates and mourns as people around her love, marry, dance, drink, give birth and die.
The back-drop of the extraordinary tough beauty of Tsengel, its unyielding traditions, and rare moments of abandonment and joy, make this a powerful and compelling first book from a woman who shares her mistakes, insights, hangovers and above all her joy at living in setting where life has "Been whittled down to its essence, like the core of a fruit."
HEARING BIRDS FLY won the inaugural 2004 Ondaatje Award and was shortlisted for the Thomas Cook Travel Book of the Year prize.
Publisher: Little, Brown Book Group (January 1, 2003)
ISBN-13: 978-0349115801
With a skill and art quite extraordinary for a first book … the reader is drawn into the world she describes through the warmth of her friendships and the sympathy and generosity with which she treats all aspects of her subject. I put the book down finally with a sense of absolute satisfaction, having spent the last few hours beneath the spell of a writer of real integrity and power —

Chris Stewart
Her great strength is telling the villagers' stories, which she does with an engaging blend of charm, directness, humour and awe at the power of nature….. –

TLS
An elegy to a remarkable part of the world. —

SUNDAY TIMES
Waugh has captured the starkly beautiful landscapes in restrained descriptive passages, but the most fascinating aspect of her narrative is her portrayal of the villagers and the nomads she meets higher up the mountains… HEARING BIRDS FLY is an extraordinary glimpse into a forgotten culture

— OBSERVER