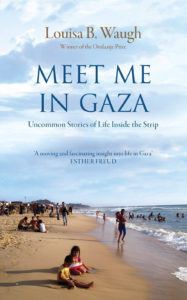 The Gaza Strip is a place synonymous with certain words: prison, terrorism, war, hopelessness, collateral damage, and the seeming lost cause of the Palestinians. So many questions of life inside Gaza, however, remain unanswered. How do people, and goods, get in and out of Gaza? Do Gazans ever have fun? Is the Strip a beautiful place? And do TV and newspaper reports actually reflect ordinary life inside what many think of as the world's largest open-air prison?
Meet Me in Gaza reveals the pleasures and pains, hopes and frustrations of ordinary Gazans in their daily lives, witnessed and recounted by award-winning writer Louisa Waugh, who lived in Gaza for more than a year, through bombing campaigns and a brief cease-fire that hung over the Strip for some months.
Written with Louisa's characteristic dry humour and interspersed with rich historical, cultural and geographical detail, it's an evocative and original portrait of a Mediterranean land and its people, including lingerie traders, students, human rights activists, fishermen, bedouin farmers, and even the odd acrobat.
Meet Me in Gaza was published by The Westbourne Press in 2013:
Louisa Waugh has a written a book that celebrates Gaza, its joys, its iron will to survive in the face of adversary and the humour that sustains its people. Louisa s book penetrates the surface, the dismal images that we have become all too familiar with from news coverage of the Strip, to reveal the more human face of the place, that few have been able to experience let alone describe. Unlike any other book about Gaza, this will please, educate and inspire rather than depress. It is vividly written and is infused with a love of life that the author has exhibited in all her previous writing.
— Raja Shehadeh, author of Palestinian Walks
A moving and fascinating insight into life in Gaza … Because Waugh stays so long I've begun to feel I know what life is like there, the weariness and terror, the unexpected pleasures, and the many, many invitations to dinner.
— Esther Freud, author of Lucky Break and Hideous Kinky
In this powerful and deeply heartfelt book, Louisa Waugh has succeeded in showing us the true face of Gaza. We encounter Palestinians in their living rooms, at work, in cafés, and at parties and weddings. In bringing Gaza to life, she has highlighted the commonalities between us. I urge everyone to read this.
— Izzeldin Abuelaish, author of I Shall Not Hate
Not many of us would have the courage to lay ourselves on the line and go and live in the Gaza strip. I'd rather somebody else did it for me, to show my solidarity with the beleaguered Palestinians; and, of just about anybody I can think of, I'd like it to be Louisa Waugh. In Meet Me In Gaza she shows her extraordinary credentials for this courageous undertaking: a deep wellspring of human warmth, a tenacious ability to find the tiny spark of joy in the most dismal surroundings, to seek out beauty amongst ugliness, an incontrovertible honesty, and then the eloquence to tell us the story and make us understand. She is not drawn in to easy sentimentality, nor to knee-jerk reactions. She treads a steady line of reason through all the absurdities and horrors she encounters, and comes up with a tender portrait of beleaguered humanity. This is what we do: we adapt, manage, carry on, even in the most appalling circumstances; but when it is told this well, the story cannot be told too often.
— Chris Stewart, author of Driving Over Lemons