I am on the trip of a lifetime, and miserable as all hell. My feet are soaking wet and cold, my shoulders ache because the bloody backpack is too heavy. I can't breathe properly; it is like trying to inhale through a blocked straw. I'm wading through snow and there there is still nine f**king kilometres to go. I am exhausted and feel like crying. In fact I am crying.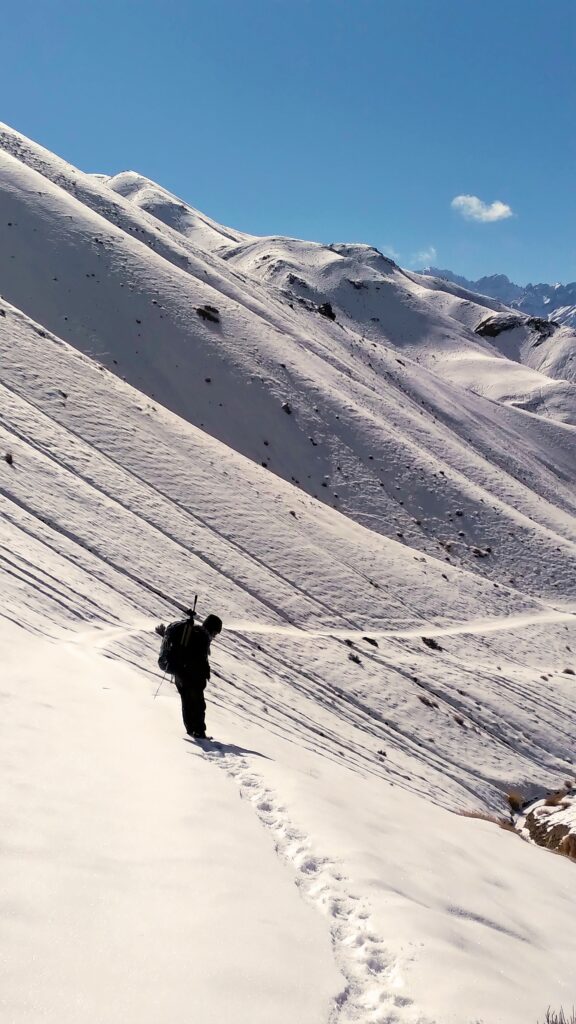 That, my friends, was a month ago. I have now returned from my high altitude trek in Ladakh, North eastern India, hopefully a better person. Ha, I know that sounds very Guardian travel supplement, but bear with me. Because the most interesting part of my trip wasn't the natural high of epic Himalayan panoramas. Nor the thrill of hiking in wilderness for eight days without seeing a single other trekker. If I'm honest, the best bit (apart from the snow-comedy of our last night, which I'll get to in a moment) was the fact I actually finished the trek without killing myself. And that I felt almost super-human afterwards – which has to be a good way to start 2023.
Ladakh lies at 3,500 metres above sea leveI. It is a sparsely populated ice-desert. There's no indoor plumbing, plus it's very hard to find alcohol (I presume these facts are not related). It is staggeringly beautiful, in a stark, "I think I've just landed on the moon" sort of a way. I wanted to visit for years, to see it in winter, with few tourists, deep snow, high crystal peaks, immense wilderness.
Looking out for wolves
I booked a trek with the Ladakhi Women's Travel Company (LWTC) the only agency owned and run by Ladakhi women. Thinlas, the boss, is very short, and can walk very fast. She's also funny, and kind, especially when you start crying because you're so exhausted and your feet are freezing wet. That was day three of our trek week: we were half way up a remote valley, pushing through deep snow and looking out for wolves. I really didn't think I could carry on. Thinlas patted me gently on the shoulder and offered to carry my pack. I am very proud of the fact that I refused. When we finally reached the pass two hours later, marked by multi-coloured, wind-shredded prayer flags, we shared a hug. Snowflakes billowed in the howling winds; we had to shout to each other.
The next morning the wind dropped. "There is a hard route and an easier route" Thinlas said, as we drank our sixth or seventh cup of tea over breakfast. I'm not keen on tea, and never drank so much of the stuff in my life. You have to keep drinking on these treks, 'cos dehydration intensifies altitude sickness (I also chewed garlic cloves every morning to open up my airways; hey, whatever it takes). I gave Thinlas a pleading look, and she winked at me. "It's OK, we are taking the easier route, because the other way, too much snow…." I felt like I'd won a prize.
That walk, from the village of Hemis-Schupatchen to the small settlement of Ang, is one I will not forget. The snow glittered and the winter sun warmed my face. We treked up a long slope that, finally, felt easier. Then followed an abandoned drovers road along a high pass. The road was steady, almost a stroll…… we looked across cathedrals of mountains towards the land of Zanskar. I got tearful again, this time it was sheer outrageous tearful joy at being Here. And probably the menopause.
I lagged behind Thinlas. I had saved hard to come to Ladakh, because travelling, especially alone, means more to me than most things, and because I wanted a challenge. And now I was asking myself, "what've I learnt here – about me? There must be something…… after all this effort".
This is what I remember thinking…… 'I can still do more than I think: I can impress myself, and push on when I want to give up, or in. I can laugh at myself when I'm being a diva. I know sometimes I need to cry before I just bloody go for it, and I don't mind crying because it is mediocrity that scares me, not treking out of my comfort zone. I am 54 years old and I still rock.' Then I grinned to myself and walked on.
Hiking to Frozen village
Every night of our trek we stayed with a different Ladakhi family, in their home. We spent our evenings next to their stoves, eating noodles, drinking tea; we had a lot of chats and some good laughs. Our last night was in the settlement of Tar, which means 'Frozen' (of course). Tar is not accessible by road, so we scaled another valley. This time we also walked upstream on a frozen river. It was silent and wild and we didn't talk.
Tar was spectacular rather than beautiful, it felt very far away from the rest of the world, despite having a weird internet tower plonked in the middle of the hamlet. We stayed with a father and daughter, and our rooms were on the roof. That evening blanket upon blanket of soft white snow fell, coating the village, and the roof. Thinlas and I used a broom to sweep a pathway to our unheated rooms. Mine had a hole in the ceiling for a chimney pipe – except there wasn't one. So the snow fluttered onto my bed as I was falling asleep. And somehow that made me laugh, even though I had to get up and pee in the middle of the night.
I don't know if I will trek again (though I'd highly recommend LWTC to anyone, young or old). But Ladakh woke me up the way that only a hard, beautiful travel can. I came home buzzing with wild mountain energy and – to steal a phrase from the indomitable journalist Lyse Doucet – I feel 'bathed in gratitude' for the experience of Ladakh. And now Bloke and I are off on our shared adventure. Next week we are moving to the West coast Scotland! I'll be in touch from there very soon (smiley face)