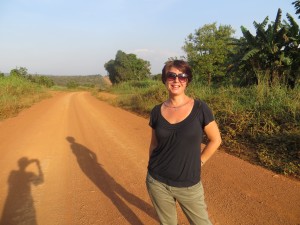 It's been a while, but I am now back to my desk, and my blog. I've missed you, and couldn't stay away any longer. I was going to call this post 'Bienvenue Madam le President,' in recognition of Mme. Catherine Samba-Panza's recent inauguration as the first female President of the Central African Republic (CAR). Having served as Mayor of Bangui since 2013, she has, literally, been in the thick of it. Now she has just one year to prove her administration and reconciliation skills, because new elections will be held next February and she won't be able to take part. Catherine S-P couldn't possibly do any worse than the previous man-on-the-job, Michel D'jotodia, who was kicked out of office four weeks ago, and was useless as president because he was politically impotent and couldn't, or wouldn't, staunch the violence.
CAR, meanwhile is still bleeding. Credible reports say Muslims are still fleeing in droves, up North towards Chad and Sudan, and that violent stalks Bangui daily. Catherine S-P promised today that killers would face justice – http://www.euronews.com/2014/02/08/central-african-republic-s-new-interim-president-catherine-samba-panza-says-/ – which is optimistic. And if there's one quality the new President of CAR needs……..
Some friends in Bangui tell me the violence is now more criminal than political, but how do you tell the difference? Militia groups have subdivided like cells, as people look out for their own and fear 'the other.'  Human Rights Watch have just published a detailed report of violence in CAR: please read it, and weep – http://www.hrw.org/news/2014/02/12/central-african-republic-muslims-forced-flee This clear-eyed reportage of the best kind, states the horrors of this chronic bloody political violence, and why the hell stopping it matters. Because if CAR goes up in flames and blood then almost five million lives are on the line, and the region around (Chad, North & South Sudan and DRC) will leach even more violence. CAR is broken but not shattered; there is still a strain of restraint that holds the country back from all-out collapse.
For instance, a good Central African friend of mine who works for a decent NGO has just returned from a reconciliation tour of CAR, visiting communities torn apart by violence and mistrust: in the town of Bossangoa – which has seen more atrocities than many parts of CAR – they established a 'Marche (market) de reconciliation' where Muslim and Christian women could trade with each other in safety. It might not sound like much, but these community initiatives are the seeds of the beginning of some kind of national healing. The academic and CAR aficionado Louisa Lobard has just written an eleagent insight into why commentators need to shut up about genocide-mongering and deal with the nuanced realities of Central Africa: http//africanarguments.org/2014/01/24/genocide-mongering-does-nothing-to-help-us-understand-the-messy-dynamics-of-conflict-in-the-car-by-louisa-lombard/
I am not actually in Bangui at the moment. I left just before Christmas, and after six weeks of being itinerant in flooded Blighty, am itching to get back. Its not just the Tories (though that's a good reason to flee the sodden country) or the bloody awful weather, or even the divorce of my absolute favourite Pussy Riot trouble-meisters; I just miss being in Central Africa. A friend zapped over a message on FB, that I am being missed in Bangui, and I nearly wept, it made me so happy. I'm almost on the plane back, pending international NGO negotiations. Wish me luck people!
Meanwhile, here's an article I wrote recently for the New Statesman magazine just as D'jotodia was pushed. http://www.newstatesman.com/2014/01/now-president-michel-djotodia-gone-will-killing-stop
And for those who want more, a good friend of mine who has spent recent time in CAR, and she has a deliciously dubious name too, recently published a political profile of CAR which explains the recent history, and the current humanitarian situation etc. http://newint.org/columns/country/2013/12/01/central-african-republic/ 
I will be back soonest, with updates about CAR and other Waugh stories. Bye!