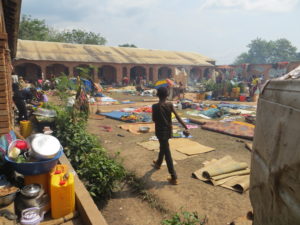 This morning my corner of Bangui was quiet. I live on the riverfront, and drink early morning coffee as I watch people walking towards the city centre market. Since Saturday, there have been more people walking each morning, including young men wheeling coffins into town. each increment seems like a small positive sign.
I live just a couple of doors away from the French embassy, which explains why the security on my street is so good. Nevertheless, a rotting corpse was found a couple of hundred metres from my apartment two days ago. But compared with much of this increasingly divided city, I live in a small pocket of relative tranquility.
I left my apartment around eight am, to try and renew my visa (which expired this morning) at the Immigration Bureau. But the only people at the bureau were heavily armed Seleka. In Arabic they told us nobody would be working till Monday – and then began to load their Kalashnikovs and rockets, and told us to leave quickly. We did so. The French military disarmament of Seleka clearly has a way to go.
An hour later, I set off on a motorbike for the quartier of Boy Rabe, which lies several kilometres beyond the city centre. I wanted to visit a friend there, Yeelen, who is the head of a monastery. And one of the Central Africans currently staying at the monastery is a man who can apparently fix my visa.
It takes us half an hour to reach Boy Rabe, and the roads are mainly quiet. No taxis, because there's still no fuel, only aid agencies, military and UN vehicles are moving round town. Boy Rabe was quiet too, with none of the normal bustle and vibrancy you see in the quartieres. We drove through the main track, then turned down a narrow mud lane towards the monastery.
At the gates I gasped –
This last week the monastery has been transformed – from a contemplative community of less than two dozen monks and nuns – into a dense refugee camp of local people who fled here after the Seleka and anti-Balaka attacks. It's now a small city in its own right: a sprawl of tents, tarps, smoke from small fires and thousands and thousands of displaced people. Some 17,000 people have sought refuge here.
I waded through the crowds. The displaced have folded themselves into every space, including the chapel, now stripped of pews and home to hundreds of people sleeping on the floor. The cloisters, the central open courtyard, the steps, every corridor and corner of the monastery is filled with women and children and older men.
There are young men here too, but thousands have sought refuge at the airport, where 27,000 people are sleeping out, under the protection of the French military. Young men fear being killed by Seleka or the anti-Balaka, and feel hunted.
Every person I spoke to at the monastery said they were too frightened to go home until their quartier is cleared of Seleka and the anti-Balaka. People have arrived not just from Boy Rabe but many of Bangui's outlying quartiers.
'We are not moving' they said to me, one after another. Many of the women and children are sleeping out in the open, under trees, with no shelter whatsoever. The rainy season should have stopped back at the beginning of December, but there are still regular heavy downpours, just adding to the cruel misery.
You can imagine the rotting rubbish, stinking open toilets, sick children, and the sheer filth from thousands of people crammed together out in the open.
One older man told me he and his family have been here for eight days, sleeping out in the open, and he hasn't eaten a thing today. 'We don't even have enough water to drink' he says. 'And we are too frightened to go home. So we have no choice but staying here.'
I found Yeelen in front of the food distribution centre, where the monks also sleep. He looked ten years older than last time I saw him. 'It's overwhelming, but we have to do our best, this is our duty' he said. We sat in his office for a few minutes, as he slumped in a chair, his skin almost grey with exhaustion. He knows it could be weeks before people feel safe enough to leave, and they have nowhere else to go. There are Muslims staying here too, the security is generally good, people don't bring arms into the monastery. The only real fights are between people fighting for, and hoarding, food.
As today's food distribution started – rice, beans and cooking oil – I telephoned my visa contact, and managed to meet him in the monastery office. Ten minutes later, I'd paid my fee, he had spoken his boss – also sheltering at the monastery – and had my visa extension in my passport. Bizarre but true!
I spent a while longer in the monastery grounds, talking with people, including visiting aid workers assessing the massive needs of these displaced. As I tried to find my motorbike driver, the sky clouded over. Late this afternoon thunder rumbled, and the rain began to fall. It has rained all evening and is cold now too.
The French military, and the FOMAC regional peace-keepers, continue patrolling and securing sections of Bangui. In centre ville, cafes are open for business, shops too, people walk the streets and even the flower sellers are back. But I've had phone calls this afternoon from friends in other quartieres still too dangerous to venture into, where vicious fights between locals are still erupting, and the few foreigners left are terrified of being kidnapped. I heard from a reliable source that five bodies with their throats cut were left outside a Bangui Mosque this morning, and can only hope it's not true.
Bangui feels like a city sliced up now, into different desperate struggles, which are not over yet.