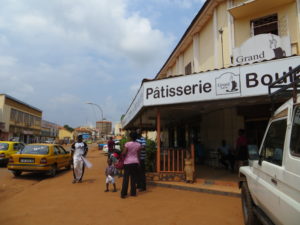 I arrived here two weeks ago. 'Here' is Bangui, small capital city of the Central African Republic, one of the remotest countries left in the world. The last week of June I flew  from London to Casablanca, changed planes, and at dawn descended over massive forest shrouded in cloud. When we landed in Bangui, the airport was very small and scruffy, and I couldn't believe the sun wasn't shining!
In less than ten minutes my visa had been stamped and I was in the tiny arrivals hall, waiting for my bags. But they were still in Casablanca, I was told, and would probably arrive on the next flight, in four days. I had almost nothing on me, like no change of underwear, and was already hot and sweaty.
As the taxi drove into Bangui the sky swelled and blackened, and cars sped towards us with their headlights on. Rain battered down on the roof of the small yellow taxi and I could barely see a thing. I was exhausted and dazed, and a bit bewildered by it all.
But this is the rainy season, and I'm getting used to these brief violent downpours that leave the red dust roads steaming, and filled with wide brown puddles. I've never lived in such a green city! Everywhere palm trees, plane trees, mango and papaya trees, grapefruit trees and so many other trees I have no names for. My apartment looks out across hills of deep forest, and just a five minute walk from my front gate is the broad Oubangui River, the border between the Central African Republic and neighbouring Democratic Republic of Congo. Fishermen paddle back and forth across the river in wooden pirogues, canoes carved from single trunks of wood, caring not for the border, just the fish. Kids swim, men and women wash their robes, and hippos bathe downstream.
To me, Bangui, has a certain charm: I like the strong coffee and the the cold beer, I like speaking French, love the music that plays on almost every corner and enjoy visiting the local markets. I frequent the Grand Cafe in centre ville, where a motley assortment of local customers, aid workers, missionaries and the (very) odd journalist or writer hangout over coffees and brioche.
But centre ville is not like the rest of Bangui, and many Central Africans tell me Bangui has changed, and not for the better.
Just over three months ago a rebel movement calling itself the Seleka marched South across the country and into this small city, launched a coup and quickly, violently, ousted the incumbent President, Bozize, who fled West, to Cameroon. The Seleka  – an unruly collaboration of three different militias, plus foreign recruits from neighbouring Chad and Sudan whom many local Christians fear are Islamists – now rule the Central African Republic. But internal power struggles are already festering within Seleka, with competing factions shooting it out on the streets, terrifying local communities. There's an unofficial curfew at night in Bangui, because armed gangs are roaming the streets and breaking into houses to steal whatever they like.
Tensions between local Christians and Muslims are ripping the threads of this fragile society, already exhausted by poverty, isolation, chronic low-intensity conflict and military coups one after another. So what is going to happen ordinary Central Africans now?
And why does the Central African Republic matter to the outside world anyway?
I'm here to find out.