Hello – I'm Louisa: I'm a writer, peace-builder and human rights advocate, I love dancing, motorbiking, red wine, Middle-eastern food and spending time in wild, remote places.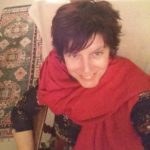 My first book was Hear­ing Birds Fly, my account account of living in a remote Mongolian mountain village, and I'm delighted that it won the inaugural Ondaatje Literary prize. My sec­ond book, published a few years later, was Sell­ing Olga, a ground-breaking inves­ti­ga­tion into international human trafficking.
My third book, Meet me in Gaza (2013), tells stories of ordinary Gazans living under military siege and was shortlisted for the Memo Palestine Book Award. I've meanwhile spent the last three years working for international peacebuilding NGOs: firstly in the Central African Republic (which I loved, see blog posts below) and now in Mali, where I manage national peacebuilding programs, travel across country whenever I can, and continue to write blogs and articles and to laugh and learn as much as possible amidst the madness of all the beautiful, cruel and wondrous things I witness in this vivid, roaming life of mine. Do Join me!